Il sistema di inventario interno di Target sembra includere nel suo elenco un prodotto chiamato "Apple Airpods (X Generation)" al prezzo di $ 399, secondo più dipendenti di Target che si sono messi in contatto con lo YouTuber John Prosser.
Prosser ipotizza che il nome potrebbe riferirsi alle cuffie over-ear di Apple che si vocifera siano in fase di sviluppo, ma l'elenco non è accompagnato da un'immagine e non include altre informazioni oltre al nome e al prezzo futuro.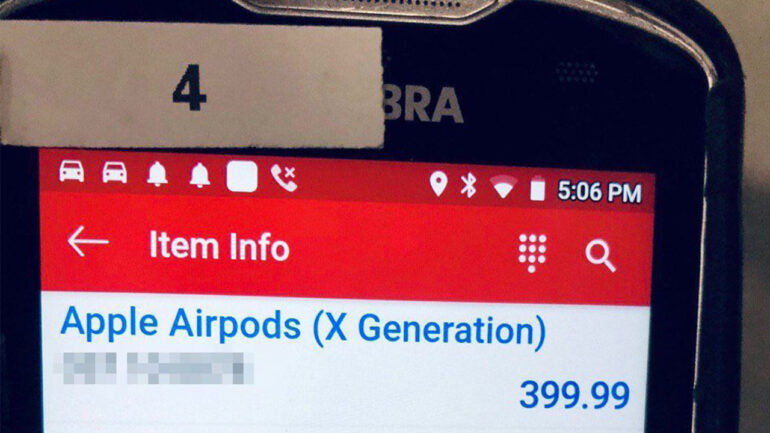 In particolare, l'ortografia di "Airpods" è sbagliata, quindi Apple Airpods (X Generation) potrebbe essere solo un nome segnaposto per qualcosa che verrà rilasciato in futuro. Al prezzo di $ 399, è di $ 150 in più rispetto agli AirPods più costosi di Apple, gli AirPods Pro, quindi se il prodotto è reale, sarà un'opzione per cuffie di fascia alta della linea ‌AirPods‌. Esistono tre SKU con il nome X Generation, che suggeriscono tre potenziali opzioni di colori.
In un tweet, Jon Prosser mostra le immagini di un elenco delle presunte cuffie over-the-ear di Apple.
Multiple Target employees have started reaching out to me about this 🤔

Showing up in their systems and on UPC scanners is this mysterious "Apple AirPods (X Generation)" listing, priced at $399. 👀

Potentially Apple's over-ear "StudioPods" headphones. Launch soon (March)? pic.twitter.com/NVcqH8As47

— Jon Prosser (@jon_prosser) February 22, 2020
AppleInsider afferma di aver parlato con più dipendenti Target dopo aver appreso della scheda e che, sebbene non vi fossero informazioni da raccogliere sull'origine dell'immagine, i dipendenti hanno affermato che i segnaposto per i nuovi prodotti con informazioni sui prezzi sono comuni, ma i nomi dei prodotti non sono sempre accurati.
I dipendenti hanno suggerito che i prodotti con un segnaposto "vengono spediti entro un mese" o talvolta "dopo una settimana" dopo essere apparsi nel sistema di inventario Target, quindi un nuovo modello di "AirPods" potrebbe arrivare presto. Si vocifera che Apple terrà un evento il 31 marzo in cui i nuovi modelli di cuffie wireless potrebbero essere annunciati insieme all'iPhone 9 che è in fase di sviluppo.
Ci sono state recenti indiscrezioni su un modello di "AirPods Pro‌ Lite" senza informazioni specifiche su ciò che potrebbe essere, ma un tale prodotto sarebbe probabilmente disponibile a un costo inferiore rispetto agli AirPods Pro‌ e presumibilmente non è il prodotto a cui si fa riferimento nella lista Target. Apple non sta sviluppando altri auricolari in stile AirPods, ma si dice che stia lavorando su cuffie over-ear di fascia alta dal 2018.
Cosa ne pensi delle voci secondo cui Apple sta sviluppando cuffie over-ear per integrarle alla sua linea di AirPods? Facci sapere nei commenti!